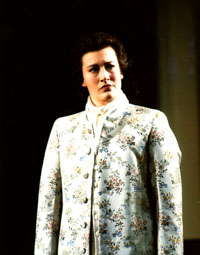 Arrived on the first rung
1998-2003
Marry Carl Talbot and move to Stroud, Gloucestershire.
Gerald Martin Moore introduces me to William Christie. Record Les Fetes d'Hébé with him and Les Arts Florissants that wins a Gramophone Award for Best Early Opera Recording and is nominated for a Grammy.
John Berry's leap of faith results in the title role of Xerxes. My predecessor, Ann Murray is a heroine of mine. I now face the fear-demons again never having sung a Handel role before.Why not start with the biggest?!
Paul Kellogg from New York City Opera liked it and offered 3 roles at NYCO, Ariodante, Romeo (Capuleti ei Montecchi) and Xerxes.
John Copley, director of Ariodante gave me tremendous confidence and knowledge of stagecraft and as did the lovely Jane Glover.
Meet John again in San Francisco for a hilarious Semele with Sir Charles Mackerras, Ruth Ann Swenson and John Mark Ainsley.
Sing Nerone, L'incoronazione di Poppea, Maggio Musicale, Florence with Michael Chance and Ivor Bolton.
ENO, Mark Antony Turnage invites me to sing Twice Through the Heart with Oliver Knussen. He writes second half of the role of Susie, The Silver Tassie for me.
Meet Mark Elder and am struck by his direct, blue-eyed gaze, confidence and warm handshake.
ENO, Elgar's Dream of Gerontius at the Royal Festival Hall with Mark. He exhorts me to think of The Angel as male.
Meet David Mc Vicar at ENO for Handel's Alcina. A memorable and exciting first rehearsal. David enables singers to develop a stage-character by allowing the space and time to think instinctively whilst steering very gently and I am indebted to him for helping me be myself on stage.
Alcina was followed by Rape of Lucretia ENO/Aldeburgh with Paul Daniels, John Mark Ainsley, Orla Boylan, Catherine Wyn Rogers, Clive Bailey, Leigh Melrose and Mary Nelson and of course the gentlemanly Christopher Maltman.I think we are a fine team.
My mother Jane is diagnosed with cancer and after a year of treatment she dies of a brain tumour. I am 3 months pregnant and about to open with Xerxes revival at ENO. Not my finest hour.
May 2003, Lily Jane is born, definitely my finest hour!