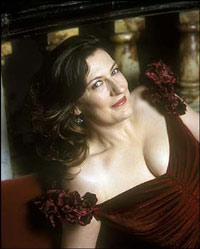 Enjoying myself at last
2004-2008
A Parisian newspaper review said, Apparently Miss Connolly is known for her Handel in England I decided to tackle that Apparently. It soon became apparent however that I would have to finance my first solo album and Harry Christophers and CORO were very happy to record and distribute the disc. I sunk a large amount of my mother's legacy into the costs and with several extremely generous donations, ($20, 000 from my friend Helen B Casey) we launched Heroes and Heroines at the University Church, Oxford. Incidentally, the place where Handel received his University Doctorate.
Berlioz, The Trojans at ENO. Feel much altered by recent events concerning death and birth. Meet the brilliant Richard Jones. Rehearsals are calm, cerebral, ethereal even. We searched for Dido's curious spirituality that is in conflict with her earthbound neediness. All of this work has informed my understanding of Purcell's Dido. I feel tremendously connected to her.
Berlioz, Les Nuits d'Eté with Philippe Herreweghe at Vienna Konzerthaus.
Within four months I sing three roles; Sesto ENO, Sesto (italian)(cover) The Met., Annio The Met., Giulio Cesare Glyndebourne. The contrast between The Met's Ponnelle production and David Mc Vicar's is astonishing. Also cram in a Carnegie Hall recital in the Weill Hall with Eugene Asti.
Nominated for Olivier Award for Outstanding Achievement as Sesto in ENO's La Clemenza di Tito.
Invited on Radio 4 Woman's Hour by Jenni Murray.
Record Handel's Solomon in Germany with Alte Music für Berlin with Mark Padmore, Susan Gritton, Carolyn Sampson, David Wilson-Johnson conducted by Agrippina's conductor, Daniel Reuss.
Record The Exquisite Hour recital, live from St John Smith's Square, London with Eugene Asti for Signum.
2006 highlights include Mahler's Rückert Lieder with Mark Elder, recordings of Elgar's Sea Pictures, Grammy nominated and Mahler's Des Knaben Wunderhorn Herreweghe/L'Orchestre des Champs Elysées, winner of Dutch Edison Award and a concert of Mahler's Das Lied von der Erde, Concertgebouw with Daniel Harding.
Purcell's Dido and Aeneas, La Scala had the background noise of the World Cup supporters. I managed to find the famed acoustical anomaly called the Callas spot and sang The Lament from there.
Then up to Glasgow for Scottish Opera's Der Rosenkavalier directed by David Mc Vicar. I always insisted my first Octavian must be in German. My dream came true. Sir Richard Armstrong was incredibly supportive and helpful, as were David McVicar and Andrew George the choreographer.
Boston Symphony Orchestra invites me to Tanglewood to sing Handel arias with Harry Bicket.
Mozart Requiem at Salzburg Festival in Mozarteum with Ivor Bolton.
Invited to become President of Stroud Choral Society, the oldest in the country.
Record soundtrack for the film Children of Men by John Tavener and Twice Through the Heart LPO/Marin Alsop.
Handel's Agrippina in an edition by René Jacobs again directed by David Mc Vicar tested the little grey cells. The recitatives were the longest I had ever encountered.
Bach's St Matthew Passion directed by Katie Mitchell was quite extraordinary. My appreciation of Stanislawski proved useful but she worked us very hard and I made many discoveries about myself and acting in general. I felt valued as a performer.
FrauenLiebe und Leben with Graham Johnson at Joan Chissell's memorial concert, RCM.
Record Schumann Lieder album with Eugene Asti for Chandos in Potton Hall, Suffolk.
Keiron Cooke shares my management with Sue Spence at Askonas Holt.
2008 begins with Sasha Waltz production of Dido and Aeneas my débuts at La Monnaie as a singer and a dancer..
Dream of Gerontius with Sir Colin Davis in Boston with the BSO.
An emergency phone call from Netherlands Opera invites me to sing Handel's Giulio Cesare from the pit and finally I get to work with René Jacobs.
Two weeks later singing Gluck/Berlioz Orphée in Munich with Ivor Bolton on an unfamiliar stage, in a new role, on two and a half days rehearsal.
For future projects, see Schedule.