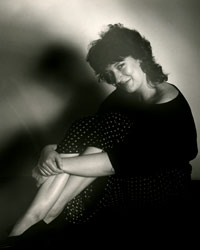 London student
1982-1987
Royal College of Music. Studied piano with Patricia Carroll and singing with Margaret Kingsley. Continued my piano studies seriously for 3 years culminating in some grown-up music and a teaching diploma DipRCM. Margaret and I struggled with my fear of addressing the audience.
Principal Sir David Willcocks gave me boundless encouragement during this difficult transition from pianist to singer, always focussing on musicianship and dedication. Contemporaries include Gerald Finley, Lorna Anderson, Denis Lakey, Graeme Broadbent and composers Paul Max Edlin and Rowland Lee.
Develop great love of Lieder, ploughing through all the Peter's editions till the janitor threw me out. Meet Graham Johnson, not that he remembers! Final recital includes own arrangement of a Gershwin song (a historical first)
Living in Chiswick next-door to Ignazio Sulas, now my dear friend and hairdresser, tolerated my excursions above the stave for 10 years. Flatmates Frances Jellard and Esther Stevens are now my daughter Lily's Godparents.