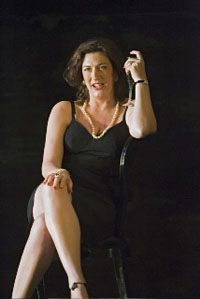 La Clemenza di Tito (Sesto)
"Sesto's sublime aria 'Deh per questo istante solo', sung with supreme eloquence by the mezzo-soprano Sarah Connolly."
George Loomis, New York Times, 19 July 2011
"Jeune et fraîche, la distribution ne manque ni d'abattage et de talent : le Sextus sensible et tragique de Sarah Connolly."
Marie-Aude Roux, Le Monde
"The Aix Festival rounded out its opening week with a stellar performance by mezzo-soprano Sarah Connolly…who virtually walks away with the show—tall, lithe and totally in command, vocally and dramatically, in the trouser role of Sesto."
Judy Fayard, Wall Street Journal
"Titus règne, mais c'est Sesto qui triomphe ! La distribution est dominée par le Sesto de Sarah Connolly, magistralement tenu, tant sur le plan scénique que vocal : très à l'aise dans son costume masculin, elle aborde le rôle avec une palette de couleurs extrêmement large, qui lui permet de rendre, avec de subtiles nuances, tous les états d'âme par lesquels passe le personnage. Des moyens vocaux sans faille (magnifiques vocalises en duo avec la clarinette dans l'air 'Parto, parto', suscitent à la fois l'émotion et l'admiration du public."
Claude Jottrand, Forum Opera
"Sarah Connolly's Sesto, macho, seductive and wonderfully sung."
Hugo Shirley, The Telegraph
"[an] unforgettable star turn—Sarah Connolly in La clemenza di Tito."
Judy Fayard, France Today
…glorious singing from Sarah Connolly."
Francis Carlin, Financial Times, 08 July 2011
"Du coup, la soirée reposa presque entièrement sur la mezzo anglaise titulaire du rôle travestis de Sesto – l'admirable Sarah Connolly."
Jacques Doucelin, Concert Classic
"Capriccio", Richard Strauss, The Metropolitan Opera, New York, March 2011
"The marvelous sounding mezzo Sarah Connolly as full-of-herself actress Clairon"
David Finkle, Theater Mania, 30 March 2011
".. the tragedienne Clairon, played wonderfully by the rich-voiced mezzo-soprano Sarah Connolly."
Anthony Tomassini, The New York Times, 29 March 2011
"Sarah Connolly gave a sharp edge to the lines of Clairon, the actress…"
Mike Silverman, San Francisco Chronicle, 29 March 2011
"Mezzo Sarah Connolly sings sumptuously and ensures that the famous actress Clairon has ample character."
George Loomis, The Classical Review, 29 March 2011
Welsh National Opera – 'Ariadne auf Naxos' – October 2010
"Sarah Connolly, an ever classy mezzo, captivated as the Composer, racked with frustration, idealism and devotion."
Fiona Maddocks, The Observer, 10 October 2010
"Sarah Connolly, in the travesty role of the Composer, is wonderfully touching."
Stephen Walsh, The Arts Desk, 08 October 2010
"As the Composer, Sarah Connolly creates a character that is utterly immersed in her craft and the need to convey a higher-art. Following her success at the Met in this role I was thrilled to hear her honeyed, chocolate mezzo caress, and stridently weave through the vocal demands of the Composer. She has an intelligence to her phrasing that gives her interpretation depth, substance, undivided focus and belief."
Bethan Dudley Fryar, Opera Britannia, October 2010
Maria Stuarda, Opera North June 2010
Mary Queen of Scots and Queen Elizabeth I never did get to meet. But were it to have happened, few could depict the encounter as convincingly as Sarah Connolly and Antonia Cifrone, who fill the respective roles in Opera North's production of Donizetti's Mary Stuart. The confrontation at Newcastle Theatre Royal sizzles with white-hot fury. In the pivotal scene of the opera Connolly refuses to show fealty and calls her cousin an obscene whore and vile bastard. The star of the show is Connolly, who spent her early school years in Darlington. She cuts a regal figure and lends authority and dignity to her character, wielding an incredible control over her expressive voice. Connolly gives a moving confessional to Talbot..Her prayer before her execution provides for a stirring finale. .This production is the complete package.
Gavin Engelbrecht, The Northern Echo
"There was beautiful shaping and phrasing in her Oh, nube!, and she acted the role throughout with intensity. The final two scenes were glorious, as Sarah Connolly sustained the long lines faultlessly, rising to the heights in Quando Di Luce Rosea and in the famous solo and chorus as Mary prays before her execution. It was a great performance, both in musical and acting quality."
Robert Beale, Manchester Evening News
"Stars are needed, and in Sarah Connolly Opera North has one…Connolly is an expert in wronged queens, an expert in every shade of regret, recrimination, frustration, resignation and acceptance, using her voice like a great string player uses his bow."
Michael Tanner, The Spectator, 19 June 2010
"…there's plenty to relish, especially Sarah Connolly's Mary, noble, dignified and fiery."
Fiona Maddocks, The Observer, 13 June 2010
"Sarah Connolly's loose curls, sensual movements and wistful horn- and harp-warmed cavatina 'O nube, che lieve'. [She] triumphs in the last scene, singing with grave intelligence and musicality."
Anna Picard, The Independent, 13 June 2010
"Sarah Connolly's soulful, plangent, sensuous Mary contrasts ideally with Antonia Cifrone's Elizabeth. Connolly grew in confidence throughout the evening, delivering a magnificent prayer and final scene as she embraces her Catholic martyr's death, resplendent in her blood-red gown."
Hugh Canning, The Sunday Times, 13 June 2010
"Sarah Connolly's Mary is mightily imposing, the character's mixture of warmth and bitterness sung with a gorgeously radiant voice. Her final hymn is a moving moment."
David Denton, The Yorkshire Post, 11 June 2010
"This is a production that is well worth seeing, if only to see an incredible performance by Sarah Connolly in the title role. In fact, it is hard to imagine anybody else being able to sing the role so perfectly."
The Leeds Guide, 09 June 2010
"Sarah Connolly's Mary looks alluringly pre-Raphaelite in gentle tresses and off-the-shoulder gowns, but it's her sense of vocal and dramatic address that really impresses, always stressing the character's inner conviction and her dignity.""
Andrew Clark, Financial Times, 08 June 2010
"…the grand expressivity of Connolly's singing is outstanding."
George Hall, The Stage, 08 June 2010
"Connolly's Mary is so memorably characterised that she dominates even the scenes where she is sadistically humiliated by her arch rival. She is a vulnerable, gentle spirit haunted (literally, in this staging) by visions of her murdered hubby. But she musters heroic spirit to seize the riding crop from Elizabeth in their epic confrontation and spit out her majestic but suicidal stream of invective — a moment of white-hot anger echoed visually by a blaze of light so intense that it bleaches out the landscape. It's as if everything — Mary's life, the clash of dynasties, the future of England itself — hangs on this one flash of rage, tremendously delivered. Although Connolly sang throughout with intensity, especially in Mary's heartbreaking prayer before facing her executioner."
Richard Morrison, The Times, 07 June 2010
"…a remarkable performance, for Connolly's is a voice that is beautifully modulated, effortless in even the quietest passages. It is also extremely well integrated into her theatrical prowess, which is never less than intense. The most moving moments come when Mary's execution is a foregone conclusion. Connolly manages a smoothly credible transition from biting anger and bitterness to forgiveness, even serenity. The progress to the scaffold is moving indeed."
Martin Dreyer, The York Press, 07 June 2010
"…in the first act – she shaped Mary's aria of nostalgia with lovely soft-grained tone and firm legato, and spitting pure venom in the fictitious confrontation with Elizabeth – she rose to even greater heights in the second, making the confessional scene with Talbot almost frighteningly intense and bringing the magnificent finale to a thrilling vocal and emotional climax. All her customary musicality was radiantly in evidence: she is an artist incapable of singing a broken or ugly phrase, and her ornamentation was exquisite. She looked wonderful, too, and presented Mary's fatal impulsiveness with an empathy that stopped short of sentimentalising this enchanting but infuriating character."
Rupert Christiansen, The Telegraph, 07 June 2010
"Maria is sung in this production by one of the most captivating British singers alive, mezzo-soprano Sarah Connolly. Her opening aria, 'O nube! Che lieve per l'aria ti aggiri', was delivered with tremendous sensitivity and technical command. All coloratura passages were perfectly gauged, and Connolly's own ornamentations were well-suited and beautifully executed. Connolly's superb acting throughout was peerless. She entered the character so completely as to become an instant benchmark by which all other Marias must be judged…her portrayal of the queen was sung and acted with utter commitment throughout."
Dominic Wells, Opera Britannia, 06 June 2010
Ariadne auf Naxos, Der Komponist, Metropolitan Opera, New York.
In the Prologue the British mezzo-soprano Sarah Connolly was the Composer, an impassioned young man who takes himself and his art so very seriously. Ms. Connolly, an admirable singer of Handel and Mozart, has been branching into vocally heavier repertory. She brought rich tone and arching lyricism to her performance and got at the essence of this character: a harried, driven and fatalistic young man.
Anthony Tomassini, The New York Times, 05 February 2010
Sarah Connolly dominated the prologue as an exceptionally refined Komponist who shaded exquisite top tones."
Martin Bernheimer, Financial Times, 08 February 2010
Sarah Connolly gave the Composer the lush tone and control we've come to expect from her many pants roles, such as Giulio Cesare and Ariodante. (Connolly does 'anguished' particularly well.)"
Jennifer Melick, Sunday Arts, 12 February 2010
The standout was a young British mezzo, Sarah Connolly, who played the Composer. It is a complex character. The Composer is in anguish because of what is being done to the creation on which he has lavished so much of his talent and blood. Connolly conveys all his unhappiness and frustration beautifully. But then the Composer declares his earnest idealism and devotion to music as a sacred calling. Here she just soared. It was a spectacular performance. I hope we see her often in the years to come."
Howard Kissel, The New York Daily News, 17 February 2010
Sarah Connolly tops New Year Honours list
Sarah Connolly tops New Year Honours list Ms Connolly sang Rule Britannia at the 2009 Last Night of the Proms Stroud's noted mezzo-soprano Sarah Connolly tops the list of Gloucestershire people on the Queen's New Year Honours list. Ms Connolly, 46, is appointed CBE. Her award ends a good year for her, in which she was guest soloist in the Last Night of the Proms.
BBC News
Tristan und Isolde. Gyndebourne Festival Opera 2009
Sarah Connolly makes a more forceful impression than usual in the role of Brangaene, engaging in spirited dialogue with her mistress, Isolde. It's a very fine performance indeed..
Barry Millington, London Evening Standard
Sarah Connolly as Brangaene needs no introduction – what luxury to have her in place of an indisposed Kristine Jepson. Her assumption of the role was everything a thrilling Brangaene should possess: great reserves of power, nobility of bearing and long-breathed melodic lines, and fabulous musicality in everything she attempted (including some soft legato singing where other Brangaenes I have heard tend to harden their register). Her voice placement was rock solid and utterly secure – this was a performance to savour. Her diction and articulation, and this was a feature of all the principals, was clear and precise, with great stress being applied to final consonants. In short, a five star Brangaene that I am sure she will go on to sing many times.
Mike Reynolds, MusicalCriticism.com
Sarah Connolly is a marvel of anguished concern as her maidservant Brangäne.
Geoff Brown, The Times.
Sarah Connolly, who has found her métier as Brangäne…
Richard Fairman, The Financial Times, 09 August 2009
…the Brangäne of Sarah Connolly…whose 'foolish devotion' is carried on singing of great passion and amplitude.
Edward Seckerson, The Independent, 7 August 2009
…her gloriously confident and expressive singing.
Rupert Christiansen, The Telegraph, 07 August 2009
With Sarah Connolly as a wonderfully eloquent Brangäne…
Andrew Clements, The Guardian, 07 August 2009
Dido and Aeneas / Chandos
This new Dido is very much Sarah Connolly's 'baby'. It was cast (conspicuously h3ly) by her and it further enshrines Connolly as one of the most affecting Carthaginian Queens since Janet Baker's account nearly half a century ago. From the outset, Connolly exudes imposing presence, pathos and unassailable dignity; her Act III Lament consummates a deeply-felt empathy with the role. Purcell year will doubtless bring a crop of highly cherishable performances; Connolly's Dido already sets the bar decidedly high.
Paul Riley, BBC Music Magazine
Dido and Aeneas / ROH
Connolly bestrides the first half of the evening like a colossus. "I fear too much," the Queen sings early on, and when the line leaves Connolly's lips, quivering with the frailty of self-awareness, you realise her plight is truly pathological. What follows, the great Lament, is both inevitable and unbearable.
Neil Fisher, The Times
As Dido, Sarah Connolly was making a scandalously belated Royal Opera debut. She struck gold with a heartbreaking account of "When I am laid". The sensitivity of her acting and her intense musicality was striking throughout.
Rupert Christiansen, The Daily Telegraph
Giulio Cesare
"It's an exciting time," says countertenor Ryland Angel. "There are mezzos that sound countertenory and countertenors that sound mezzo-y. All these roles should be fair game for both men and women. My hope is that the person chosen for the role can be the complete package — convincing both vocally and dramatically. Take Sarah Connolly, for example — a great Handelian mezzo. She can sing and act the pants off any role. I'd cast her in anything." And sure enough, pop in the DVD of the Glyndebourne Cesare, punch up "Va tacito," and there she is — as rampant a Caesar as ever one could wish, striding forth in a stylish scene from David McVicar's production. Her golden voice and forceful character — beautifully supported and complemented by the hunter's horn of Handel's orchestra — embody heroism both male and female in a majestic new golden age of Baroque opera.
Marcia Young, Opera News
I Capuleti e i Montecchi / Romeo. Opera North, November 2008
Connolly's glorious singing would grace any stage in the world.
Hugh Canning, Sunday Times. October 2008
Still, it has to be said that the main reason to attend is the knock-out performance of Sarah Connolly as Romeo; a shame that more people didn't turn out to see it. I found her approach to this music invigorating, largely because, ironically enough, it was almost old-fashioned in its values. The inclination in recent times to perform the bel canto repertoire with a spinto rawness has led to a rejection of line and beauty in some quarters, but Conolly's sense of the Classical structures of Bellini's extraordinary vocal writing results in a wonderfully rich sound through every curve and step. That's not to say that she doesn't also have a sense of the dramatic – far from it – but I deeply admired her faithfulness to the text. This is a quality show, and with Connolly on such good form it shouldn't be missed.
Dominic McHugh, MusicalCriticism.com
Connolly [is at her] absolute best in the work, singing with remarkable lustre and refined passion. The scenes between the lovers have a tender, concentrated stillness that separates their relationship from the violence around them. Connolly's climactic encounter with Montvidas – in which each acknowledges the other's grief and hurt – is breathtakingly done.
Tim Ashley, The Guardian, october 2008
The cast is led by Sarah Connolly's world-class Romeo.
Andrew Clark, Financial Times, october 2008
I capuleti e i Montecchi / Romeo. Opera North, November 2008
Connolly is a tower of strength, reserving her most powerful resonance for Romeo's encounter with Tebaldo.
Martin Dreyer, The Press, october 2008
I Capuleti e i Montecchi / Romeo. Opera North, November 2008
The tremendous performance of Sarah Connolly as Romeo is on exactly the right scale. This Romeo is headh3, as his opening aria demonstrates, and modestly ardent, but not destined for heroic deeds.
Michael Tanner, The Spectator
That superb musician Sarah Connolly displayed a supremely intelligent mastery of bel canto style as Romeo.
Rupert Christiansen, Daily Telegraph october 2008
i capuleti e i Montecchi / Romeo. Opera North, November 2008
Luckily, that superb mezzo Sarah Connolly has returned to her northern roots… … the loudest hurrahs are rightly reserved for Connolly, whose rich, warm tone and immaculate phrasing make this one of the vocal performances of the year.
Anthony Holden, The Observer, November 2008
British mezzo Sarah Connolly is one of the glorious Octavians of our time.
Anthony Holden, The Observer,june 2008
Sarah Connolly's brightly focused Octavian has ardour and flair in all his/her disguises.
John Allison, Sunday Telegraph, June 2008
Der Rosenkavalier, ENO May / June 2008. McVicar/Gardner
Connolly's ardent, tousle-haired, unguarded portrayal of first and second love is gloriously sung.
Anna Picard, The Independent on Sunday, June 2008
Der Rosenkavalier, ENO, May/June 2008
Sarah Connolly triumphs as the titular Rose-Cavalier with her world-class singing and ideally coltish bearing, capturing the impetuousness of the 17-year-old Octavian. She's hilariously gauche and mannish in her double-drag act as Mariandel, the Marschallin's supposed chambermaid,
Hugh Canning, Sunday Times June 2008
Sarah Connolly's Octavian is alternately coltish, clumpish, coquettish, chivalrous and charismatic – as complete a portrayal as we are likely to see for some time.
Andrew Clark, Financial Times May 2008
For once, the title role really did assume the greatest importance in Sarah Connolly's vital Octavian, delivered in a voluptuous tone and acted with the eagerness appropriate to a 17-year-old hero. Connolly also excelled in defining herself convincingly not only as a young man but also as a young man impersonating a young woman.
George Hall, The Guardian, May 2008
But Sarah Connolly's Octavian was in a class of it own – such elegantly musical singing (and intelligent acting) gives rare pleasure.
Rupert Christianson, Daily Telegraph, May 2008
Cast-wise, there is international quality at work. Sarah Connolly is an outstanding Octavian virile, sulky, petulant, her voice so ripe for the role that nothing is forced.
Ed Seckerson, The Independent, May 2008
Berlioz: La Damnation de Faust. April 2008 BBC NOW/Fischer
As Marguerite Sarah Connolly was quite magnificent – this was one of the very finest interpretations of the role that I have heard. Connolly sang with intense commitment and expressivity, but also with unfailing vocal control. To 'Que l'air est étouffant' and 'Autrefois un roi de Thulé' she brought a radiance of voice that was quite startlingly beautiful. After the initial innocence of these pieces, Connolly brought a profound weight of emotion to 'D'amour l'ardente flamme', her higher notes translucent, the lower ones rich without the slightest hint of heaviness, providing a purely human emotional substance to the work…
Glyn Purslove, Seen and Heard International Opera review
Glyndebourne Festival Opera 'St Matthew Passion'
Sarah Connolly sings the alto arias with a sombre intensity.
Stephen Pritchard, The Observer, 08 July 2007
Sarah Connolly provides intensity and vocal beauty.
Fiona Maddocks, Evening Standard, 02 July 2007
Sarah Connolly is superb in the alto solos.
Erica Jeal, The Guardian, 03 July 2007
Sarah Connolly's alto solos shone, finely shaped with staggering breath control…
Erica Jeal, Opera, September 2007
The festival is fortunate to have Sarah Connolly, singing the all-important mezzo arias with an inward concentration that embodies the essence of what the 'St Matthew Passion' is all about.
Richard Fairman, Financial Times, 02 July 2007
The most effective, the most moving moments are the stillest: Sarah Connolly's compassion for Peter in a gloriously understated 'Erbarme Dich'.
Edward Seckerson, The Independent, 03 July 2007
Connolly's magnificent 'Ach, Golgatha' and 'Erbarme dich'.
Anna Picard, The Independent, 08 July 2007
Sarah Connolly was outstanding among the soloists.
Rupert Christiansen, The Telegraph, 03 July 2007
Sarah Connolly's searing singing of the work's most beautiful number 'Erbarme Dich'.
John Allison, The Telegraph, 08 July 2007
Sarah Connolly's luminous account of 'Erbarme dich'
Hugh Canning, The Times, 08 July 2007
English National Opera 'Agrippina'
The outstanding cast is led flamboyantly by Sarah Connolly as Agrippina, freed from the male attire we are so used to seeing her in she is both very funny and sexy. No man (or woman) is safe from her manipulations, political and manual. She visibly pants at the sight of a parade of soldiers, ensuring they remain erect as she inspects them.
Simon Thomas, Music OMH, 06 February 2007
Connolly, tottering dipsomanically on precarious high heels excelled in the still moments.
Fiona Maddocks, Evening Standard, 06 February 2007
Connolly was on fine form; perhaps it's the swagger she brings to Handel's male mezzo roles that frees up the absolute maximum bravura in her voice, but she breezed through her machinations with relish, and held the stage in her 'Obsession' soliloquy with compelling introspection.
Erica Jeal, Opera, April 2007
That faultless musician musician Sarah Connolly is the epitome of elegance in the title role, singing with total stylistic and technical assurance, as well as playing the queen bitch with terrific relish. Her account of the dramatic scena at the beginning of the second half provided a master-class in the art of declamation.
Rupert Christiansen, The Daily Telegraph, 07 February 2007
Sarah Connolly produces thrilling sound and a fearsome characterization as Agrippina.
Richard Morrison, The Times, 07 February 2007
The show is partly a star vehicle for Sarah Connolly, always an outstanding Handel mezzo, here singing a woman for a change. As the machinating, gin-swigging Agrippina, she doesn't disappoint.
Erica Jeal, The Guardian, Wednesday, 07 February 2007
Sarah Connolly's vibrantly sung Octavian'catches exactly the naive, self-obsessed moodiness of teenagers who mistake rites-of-passage for love eternal.
Richard Morrison, The Times, 06 October, 2006
The best reason to catch the show is Sarah Connolly, making her debut as Octavian: she sings it to the manner born, and acts male with easy authority.
Rupert Christiansen, The Telegraph, 07 October, 2006
Musically, the centre of attention is Sarah Connolly's Octavian, her first assumption of the role, gloriously voiced and drawing us back with her into the joys and agonies of adolescent curiosities and emotional indecisions.
Tim Ashley, The Guardian, 07 October 2006
Scottish Opera 'Der Rosenkavalier'
This Rosenkavalier is unmissable above all for Sarah Connolly's Octavian a role-debut of exceptional allure, style and presence that earns her a place in the Straussian pantheon.
Andrew , The Financial Times, 05 October 2006
There was one entirely new phenomenon to celebrate ' the triumphant role debut of Sarah Connolly as Octavian. She had poise, allure, dignity, style, presence. From curtain-up she created the unmistakable profile of a well-sexed young aristocrat, and yet she flitted between Octavian and Mariandel with disarming charm and ease. As a visual portrait ' the physique du role', the elegant carriage, the distinctive traits of masculine movement ' this was as complete as you could wish. But we were never less than aware that this was a sensitive mezzo-soprano, singing with the sort of refined naturalness, nobility of tone and ease of projection that you dream of hearing each time your encounter 'Der Rosenkavalier' in the theatre but so rarely find. If she wants it, Connolly has a huge future as Octavian. And just to crown it, her German diction was excellent.
Andrew Clark, Opera, December 2006
La Scala, Milan 'Dido & Aeneas'
Protagonista Sarah Connolly: positiva la sua prova, che vanita l'intensit emotiva che rende universale l'intima, nobile espressione di dolore di Didone.
Enrico Girardi, Corriere Della Sera, 29 June 2006
La Scala, Milan ' 'Dido & Aeneas'
Il mezzosoprano inglese Sarah Connolly (Dido), voce intensa e di grande espressivita dal timbro corposo e ricco di sfumature unito ad una emissione sempre sotto controllo, commovente nel doloroso lamento finale 'When I am laid in Earth', culmine musicale ed espressivo di tutta l'opera costruito su un dolente tema di passacaglia cromatica, interpretato dalla Connolly con fervida drammaticita.
Giuseppina Mascari, Operaclick, 14 July 2006
BBC Proms 'Giulio Cesare'
Sarah Connolly's performance in the title role was riveting from start to finish. Drawing us into the introspective arias with superb control, then dispatching florid runs with easy grace, her vocal performance confirmed her arrival as a real star in this repertoire; her dramatic presence, all well-observed, arrogant masculinity was uncanny.
Erica Jeal, The Guardian, 25 August 2005
The singing is extraordinary. Connolly [is] thrilling.
Tim Ashley, The Guardian, 5 July 2005
Glyndebourne Festival 'Giulio Cesare'
Sarah Connolly was a superb Cesare, vocally and dramatically secure.
Keith Clarke, Musical America, 6 July 2005
Mezzo Sarah Connolly, who sings Caesar, has mastered the art of embodying a male on stage. Handel, of course, wrote the role of the Roman Emperor for a man – an alto castrato, which is a voice they don't make any more. With her more natural tones Connolly goes for all the notes and gets them
George Hall, The Observer, 10 July 2005
Cesare was sung by Sarah Connolly, who looked splendidly convincing This was a commanding performance and her singing of the glorious 'Aure, deh, per pieta' was profoundly moving.
Michael Kennedy, Sunday Telegraph, 10 July 2005
Ms. Connolly responds always artfully and freely to her music's wide-ranging demands on color, weight, shape and emotional nuance; she is in command even when her character is imperiled, and fascinating even when he is secure.
Paul Griffiths, New York Times, 5 July 2005
Sarah Connolly masters Caesar's physicality and sings radiantly.
Andrew Clark, Financial Times, 5 July 2005
Sarah Connolly is surely one of the best Handelians today, and she made a dashing Cesare who really had absorbed every detail of masculine gesture. With her rich, focused mezzo, her artistry is absolutely secure.
John Allison, Opera Magazine, September 2005
Connolly's sincerity and sustained beauty of tone make for the most satisfying and meaningful moments
Anna Picard, Independent on Sunday, 10 July 2005
The outstanding performance came from Sarah Connolly as a splendidly authoritative Cesare. Her artistry is something I think only the connoisseur can fully appreciate for sheer artistry, musicianship and stylistic intelligence, she is in a class of her own, and the one moment in the evening when I felt my heart-strings tugged was her gravely beautiful interpretation of 'Aure, deh, per pieta'.
Rupert Christiansen, The Telegraph, 5 July 2005
Wonderfully truthful acting performances from Sarah Connolly's Cesare she makes something special of the hero's rapturous violin-accompanied aria
Hugh Canning, Sunday Times, 10 July 2005
Sarah Connolly's dignified Caesar carries the vocal honours.
Financial Times, 9 July 2005
Sarah Connolly's Caesar is magnetic, exemplary
Robert Thicknesse, The Times, 5 July 2005T
Metropolitan Opera 'La clemenza di Tito'
Sarah Connolly played Annio with absolute security of voice and presence, animated by a certain personal dash. 'Torna di Tito a lato' in Act II sounded thoroughly convincing, the mezzo's smooth, urgent tone supporting the positive thinking of Annio's plea to Sesto.
John W. Freeman, Opera News, July 2005
An acclaimed debut as Annio
Hugh Canning, Sunday Times, 22 May 2005
English National Opera 'La clemenza di Tito'
Connolly would (and should) now grace any stage in the world. She sings nothing that you don't believe – not a false, disingenuous note anywhere.
Edward Seckerson, The Independent, 9 February 2005
Sarah Connolly, singing with style and passion, fashions a subtly nuanced, moving portrayal of the anguished Sesto.
David Blewitt, The Stage. 9 March 2005
Flawless, breathtaking technique, a vast range of expression and depth of character, every word clear and every emotion bared.
Robert Thicknesse, The Times, 7 February 2005
Connolly, supremely at ease with all that tricky coloratura, combines emotional extremism with chilling restraint.
Tim Ashley, The Guardian, 7 February 2005
She has all the vocal poise and style the part demands
Andrew Clark, Financial Times, 8 February 2005
Highest praise goes to Sarah Connolly's Sesto. Already turning heads this season as Dido, she sounded better than ever, vocally in glorious full-flight, dramatically affecting.
Fiona Maddocks, Evening Standard, 7 February 2005
Sarah Connolly's innate musicality and technical poise make her a splendidly noble Sesto.
Rupert Christiansen, The Telegraph, 8 February 2005
Connolly's Sesto is simply glorious, a performance that would grace any house in the world.
Hugh Canning, Sunday Times, 13 February 2005
A star account of Sesto from Sarah Connolly, who must be so tired of being told that she is Janet Baker's heir that it's a delight to say that as with all major artists comparison is otiose. Appearance, acting and her wonderful rich mezzo combine to give her arias the effect of oases.
Michael Tanner, The Spectator, 19 February 2005
English National Opera – 'The Trojans'
The production is immeasurably strengthened by the new casting of Sarah Connolly as Dido. Her noble tone and regal bearing are steadily undercut by the subtly charted emotional opening-up of the character to a vulnerability that will lead to her doom. Dido's predicament has rarely been presented with such vital engagement.
George Hall, BBC Music Magazine, November 2004
Sarah Connolly's superb Dido dominates. What a joy to hear such classically elegant singing, secure in technique and sensitive in style.
Rupert Christiansen, The Telegraph, 27 September 2004
Sarah Connolly was the linchpin of Friday's opening night, singing Dido with warmth and dignity, rising nobly to the stature of a role that seems very congenial to her.
Richard Fairman, Financial Times, 27 September 2004
Connolly was by a mile the star of the show, regal of countenance, generous of phrase and tone and just so much inside the skin of this lady. Her emotional journey was laid bare for all to be humbled by.
Edward Seckerson, The Independent, 29 September 2004
You'll never see a finer Dido than Sarah Connolly's heartbreaking heroine
Robert Thicknesse, The Times, 27 September 2004
Sarah Connolly's Dido is the compelling reason to attend She achieved regal dignity and womanly passion and sang with increasingly lustrous tone.
Michael Kennedy, The Sunday Telegraph, 3 October 2004
[The performance] boasts a supremely eloquent, genuinely tragic Dido in Sarah Connolly.
Tim Ashley, The Guardian, 28 September 2004
Bayerische Staatsoper, Munich 'The Rape of Lucretia'
Sarah Connolly, a sumptuous-voiced Lucretia
Larry Lash, Financial Times, 28 July 2004
Sarah Connolly, touching, in the title role…
Der Tagesspiegel, 22 July 2004
Sarah Connolly was a vocally effulgent, heartbreaking Lucretia.
Jeffrey A. Leipsic, Opera News, October 2004
Sarah Connolly, Christopher Maltman and Ian Bostridge are representative of the eight exquisite voices on stage…A large work, an important interpretation. And ovations after the premiere
Salzburger Nachtrichten, 24 July 2004
Passionate, straight, emotionally honest, and also confused which makes the meaning even more interesting. Musically she was very fine indeed.
Tom Sutcliffe, Opera Now, November 2004
New York City Opera 'Xerxes'
Sarah Connolly was excellent in the title role, singing with authority and impressive control.
Jeremy Eichler, New York Times, 6 April 2004
Sarah Connolly's flawlessly produced mezzo, absolutely even in range and expressive, helps make her a fine Xerxes, with as much emphasis on his whimsy as serious lovesickness. Her manly, self-serious mannerisms work well.
Robert Levine, Classics Today, 1 April 2004
Theatre des Champs Elysees 'Semele'
Sarah Connolly was a powerful Juno, aggressive and crafty in defending her marital territory.
David Stevens, Andante, February 2004
English National Opera – 'The Rape of Lucretia'
Sarah Connolly's Lucretia is in the line of descent from Ferrier and Baker, her near-hysteria with Lucia and the orchids a telling touch
Michael Kennedy, Opera, January 2004
Sarah Connolly repeated her firmly poised and emotionally rich Lucretia.
Rupert Christiansen, The Telegraph, 13 November 2003
Outstanding contribution from Connolly
Tim Ashley, The Guardian, 11 November 2003
Sarah Connolly was titanic in the title role.
Anthony Holden, The Observer, 16 November 2003
Sarah Connolly's Lucretia touched the heart as an everyday sort of woman who could be living in any time or place.
Richard Fairman, Financial Times, 11 November 2003
English National Opera – 'The Capulets and the Montagues'
Engaging imaginatively with the text and coming up with a large supply of varied tone to deliver the notes. She was hugely impressive
George Hall, Opera News, January 2004
Bellini wrote the role of Romeo for the great mezzo-soprano Giuditta Grisi. Here we have Sarah Connolly in rapturous voice shading every phrase with meaning so that all the coloratura and wide-ranging cadenzas are placed at the service of psychology rather than display.
Tim Ashley, The Guardian, 10 October 2003
The experienced mezzo Sarah Connolly as Romeo utterly at ease with the tough technical demands of Bellini's ornate, elegant lines. [She] conveyed some glorious colours.
Stephen Pettitt, Andante, 8 October 2003
Romeo is the only character here to develop some depth, and Connolly brought both swagger and conviction to her performance [with] expressive, firmly focused lines.
John Allison, The Times, 10 October 2003
A singer of superlative technique and musicianship she showed an instinctive understanding of the classical nobility of style which the score requires: every phrase was sensitively shaped and coloured, her soft singing was glowingly focused and her coloratura both accurate and meaningful. The fullness of expression she brought to Romeo's ardent vocal line was quite enthralling, and in the tomb scene her intensity gripped the house in rapt silence. A truly magnificent achievement.
Rupert Christensen, The Telegraph, 10 October 2003
Sarah Connolly's rich and flexible mezzo was ideal for Romeo's music, always fluently phrased and sustaining the long lines of cantilena with apparently no effort.
Michael Kennedy, Sunday Telegraph, 12 October 2003
Sarah Connolly sang Romeo with all her accustomed dignity and depth. This invaluable mezzo is in her best form.
David Murray, Financial Times, 9 October 2003
English National Opera 'Xerxes'
The feverish pulsings of his desire: fluttering trills little swellings and subsidings wonderfully sung [a] controlled, willowish timbre
Robert Thicknesse, The Times, 11 November 2002
Sarah Connolly manages to turn the indulgent and selfish Xerxes into a sympathetic character
Tom Service, The Guardian, 11 November 2002
English National Opera 'Ariodante'
Lustrous tone, fluent phrasing and a commanding presence are the constituents of her splendid performance Her singing of 'Scherza infida' was gloriously poised and intense
Michael Kennedy, Sunday Times, March 2002
In luscious voice one of the finest performances of the evening, shaping every aria with ravishing finesse.
Tim Ashley, The Guardian, 8 March 2002
Sarah Connolly is one of those young mezzos who make Janet Baker's early retirement slightly more bearable. Connolly has already sung Ariodante in New York to great acclaim, and was no less acclaimed last night. Her tone is beautifully warm and even, and the technical demands hold no terrors for her Her big second-act lament held the house breathless.
Rodney Milnes, The Times, 7 March 2002
Connolly seals her reputation as our best Handel mezzo in many years. The voice is richly coloured, delicately used but incisively dramatic. She brings Handel to open-hearted expressive life, but never by tilting him towards Puccini; she knows the style through and through, and makes the maximum effort within it.
David Murray, Financial Times, March 2002
The focus of this revival is Sarah Connolly's masterly portrayal of Ariodante, as assured in the extremes of Handel's technical demands as she is in conveying the hero's fluctuations of fortune. Beautifully sung, affecting, clear in every verbal and musical detail, her Ariodante is in itself a reason for catching the production.
Geoffrey Norris, The Telegraph, March 2002
New York City Opera 'The Capulets and the Montagues'
She sang with an unusual purity of line and a consistent richness of sound in a part that demands a daunting vocal range. How good it feels to encounter brilliant young talent
Charles Michener, New York Observer, October 2001
She sings the music exquisitely spinning smooth-as-silk bel canto phrases with her evenly modulated, expressively textured mezzo-soprano.
Heidi Waleson, Wall Street Journal, 4 October 2001