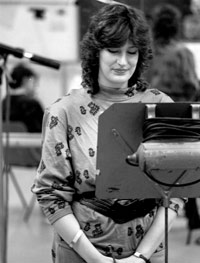 Tentative beginnings
1987-1992
Become member of the BBC Singers and tour the world's major music festivals with composer/conductors such as Pierre Boulez, Luciano Berio and Peter Eotvos. Freelance with Monteverdi Choir and The Sixteen.
Appear on Friday Night is Music Night playing and singing own Gershwin arrangement with jazz trio.
Study singing with David Mason with whom I widen the repertoire and discover Noamh Chomsky. Join his and David Robleau's group Combattimento and perform Petite Messe Solenelle and Peri's Eurydice with Mark Tucker.
Ivor Bolton and Jane Glover, guest conductors for the BBC Singers encourage me to pursue a solo career.
Various auditions for ENO, ROH and National Opera Studio result in very negative experiences. Sarah Walker and Roger Vignoles include 2 of my Gershwin song arrangements in their Cabaret cd's.
Toy with becoming a jazz singer/pianist but desire to sing Ravel's Shéhérazade is stronger.
Join Glyndebourne Chorus.