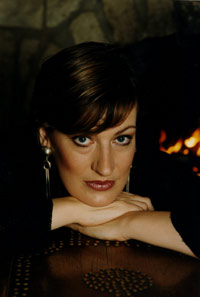 The Big Struggle
1992-1996
Initially feel greatly released being on stage but it is a case of safety in numbers in Glyndebourne's fabulous production by Trevor Nunn of Peter Grimes.
Continue endless rounds of dispiriting auditions. At 32, my lack of stage experience and choral background seem to be causing problems, on paper.
Faced with the same question again and again..
"Yes but what have you DONE?!"
I answered exasperatedly,
"Clearly bugger-all on stage, but I'm willing to try anything!"
I got the job which was Charlotte in Robert Chevara's Werther for ETO.
Meet the magical Gerald Martin Moore who is still my singing teacher. He is largely responsible for giving me a solid technique.
Welsh National Opera's casting director, Julian Smith gave me Annina, Der Rosenkavalier.
Beginning to realise I must dance to my own tune.
Father dies unexpectedly, August 1995.
Meet Philippe Herreweghe for Bach concerts. His serious approach to rehearsal and intense focus on text and eighteenth century style and rhetoric has been the backbone of my understanding of all baroque opera.
John Berry spots me in an audition and offers me Messagiera, Orfeo for ENO in an eye-opening production directed by David Freeman.